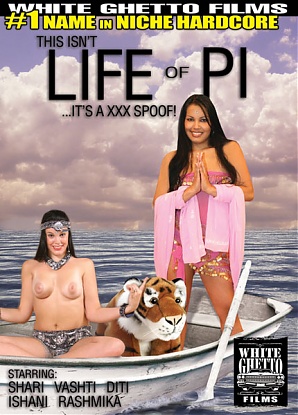 Front Cover | Back Cover
▲ This Isn't Life Of Pi... It's A XXX Spoof! Adult DVD ▲

►
This Isn't Life Of Pi... It's A XXX Spoof! DVD

The Competition:
Adult Deals Price:
$38.99
$7.95
Not Available
Out Of Stock

---

Availability:

Last One! Make It Yours.

Film Studio:

White Ghetto Films

Starring:
Shari, Vashti, Diti, Ishani, Rashmika
Description:
This Isn't Life Of Pi It's A XXX Spoof!: A young Indian woman's passage to a new life in America aboard a freighter meets a happy ending. She experiences life as American woman, by embracing her sexuality. Her Pi is pounded like never before!
Categories:
Comedy, Feature, Spoof

---

Adult DVD ID:
124146.0
Adult DVD SKU ID:
DVDGHETTO656
Adult DVD Run Time:
Unknown

Cheap Adult DVD:

This Isn't Life Of Pi... It's A XXX Spoof!