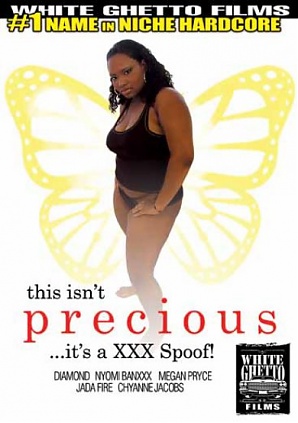 Front Cover | Back Cover
▲ This Isn't Precious ...It's A XXX Spoof! Adult DVD ▲

►
This Isn't Precious ...It's A XXX Spoof! DVD

The Competition:
Adult Deals Price:
$38.99
$7.95



---

Availability:

In Stock Now! Get One Now.

Film Studio:

White Ghetto Films

Starring:
Chyanne Jacobs, Diamond, Jada Fire, Megan Price, Nyomi Banxxx
Description:
This Isn't Precious ...It's A XXX Spoof!: When a chick grows up in the inner city, its often tough to enjoy any of the good life. Especially if shes a few pounds overweight, and has to watch those gorgeous sistas getting all the attention. Unless, of course, she uses her natural talents to get ahead, by giving some head! And fucking like a machine, plus a few carefully chosen hand jobs wont hurt either. Actually, the road out of urban blight is really a matter of which cocks she chooses to milk. And that's really precious!
Categories:
Black, Comedy, Feature, Interracial, Spoof

---

Adult DVD ID:
124168.10 (1-D-752)
Adult DVD SKU ID:
DVDGHETTO660
Adult DVD Run Time:
Unknown

Cheap Adult DVD:

This Isn't Precious ...It's A XXX Spoof!