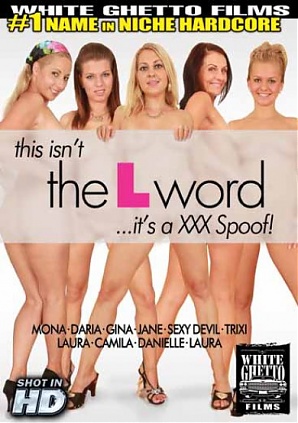 Front Cover | Back Cover
▲ This Isn't The L Word ...It's A XXX Spoof! Adult DVD ▲

►
This Isn't The L Word ...It's A XXX Spoof! DVD

The Competition:
Adult Deals Price:
$38.99
$7.95



---

Availability:

In Stock Now! Get One Now.

Film Studio:

White Ghetto Films

Starring:
Camila, Danielle, Mona, Trixi, Sexy Devil, Daria, Gina, Jane, Laura
Description:
This Isn't The L Word ...It's A XXX Spoof!: Lesbian! The L word is a polite term for referring to a lesbian. But were not polite here, are we? And that's because we love watching this tight group of girls who love other girls doing what only girls can do to each other. With their fingers, tongues, lips and some amazing toys they enjoy the hottest sex imaginable, and no dicks required. So the L word is a good word, both for the chicks who dig chicks, and for us guys who enjoy the show!
Categories:
Comedy, Feature, Lesbian, Spoof, All Girl, All Girl

---

Adult DVD ID:
124175.9 (1-G-152)
Adult DVD SKU ID:
DVDGHETTO901
Adult DVD Run Time:
Unknown

Cheap Adult DVD:

This Isn't The L Word ...It's A XXX Spoof!