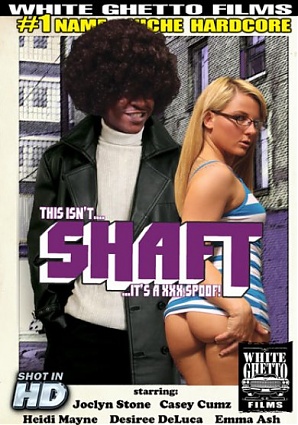 Front Cover | Back Cover
▲ This Isn't Shaft ...It's A XXX Spoof! Adult DVD ▲

►
This Isn't Shaft ...It's A XXX Spoof! DVD

The Competition:
Adult Deals Price:
$38.99
$7.95
Not Available
Out Of Stock

---

Availability:

Last One! Make It Yours.

Film Studio:

White Ghetto Films

Starring:
Casey Cumz, Desiree Deluca, Emma Ash, Heidi Mayne, Joclyn Stone
Description:
This Isn't Shaft ...It's A XXX Spoof!: There's nothing private about his dick. In fact, his shaft gets plenty of exposure, with all the ladies. Hes a big dick man who takes care of all the ladies. Damn right you know who I'm talking about!
Categories:
Comedy, Feature, Interracial, Spoof

---

Adult DVD ID:
124179.0
Adult DVD SKU ID:
DVDGHETTO149
Adult DVD Run Time:
Unknown

Cheap Adult DVD:

This Isn't Shaft ...It's A XXX Spoof!