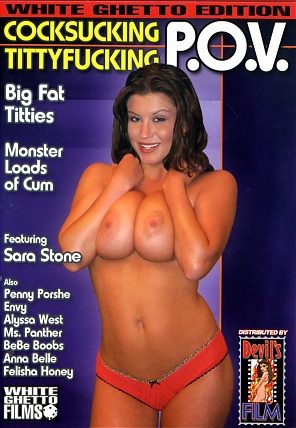 Front Cover | Back Cover
▲ Cocksucking Tittyfucking P.O.V. Adult DVD ▲

►
Cocksucking Tittyfucking P.O.V. DVD

The Competition:
Adult Deals Price:
$37.99
$7.95
Not Available
Out Of Stock

---

Availability:

Last One! Make It Yours.

Film Studio:

White Ghetto Films

Starring:
Sara Stone, Penny Porshe, Envy, Alyssa West, Ms. Panther, Bebe Boobs, Anna Belle, Felisha Honey
Description:
If you like tittie fucking and hard core blow jobs, then go no further, you've got it here. Watch these big fat hot squeezable titties get fucked!!
Categories:
Big Tits, Big Tits, Blow Job, Tit Fucking

---

Adult DVD ID:
90166.0
Adult DVD SKU ID:
DVDGHETTO493
Adult DVD Run Time:
Unknown

Cheap Adult DVD:

Cocksucking Tittyfucking P.O.V.