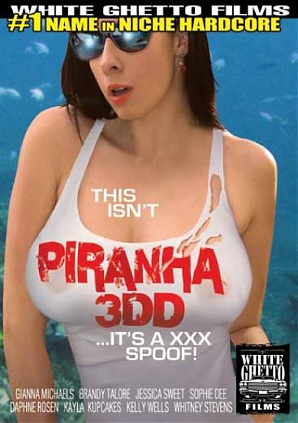 Front Cover | Back Cover
▲ This Isn't Piranha 3DD ...It's A XXX Spoof! Adult DVD ▲

►
This Isn't Piranha 3DD ...It's A XXX Spoof! DVD

The Competition:
Adult Deals Price:
$37.99
$7.95
Not Available
Out Of Stock

---

Availability:

Last One! Make It Yours.

Film Studio:

White Ghetto Films

Starring:
Brandy Talore, Daphne Rosen, Gianna Michaels, Jessica Sweet, Kayla Kupcakes, Sophie Dee, Kelly Wells, Kelly Wells, Whitney Stevens
Description:
This Isn't Piranha 3DD ...It's A XXX Spoof!: Do Piranhas Like Big Tits? We mean really big as in bra stretching big? Actually, nobody knows because piranhas are such nasty little bastards that you want to stay far away from them. But those big, swaying monster tits however, are something you want to get real close to. Like squeezing and fondling and sucking close. And we've got a line up of fun bags for you that will have you swelling with delight. So just when you thought it was safe to go in the water, why not stay in the bedroom!
Categories:
Big Tits, Big Tits, Comedy, Feature, Spoof

---

Adult DVD ID:
124180.-1
Adult DVD SKU ID:
DVDGHETTO1543
Adult DVD Run Time:
Unknown

Cheap Adult DVD:

This Isn't Piranha 3DD ...It's A XXX Spoof!