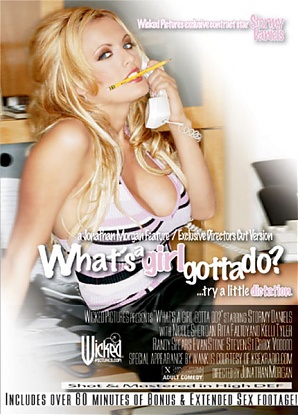 Front Cover | Back Cover
▲ What's A Girl Gotta Do? Adult DVD ▲

►
What's A Girl Gotta Do? DVD

The Competition:
Adult Deals Price:
$39.99
$8.95



---

Availability:

In Stock Now! Get One Now.

Film Studio:

Wicked Pictures

Starring:
Stormy Daniels, Nicole Sheridan, Rita Faltoyano, Kelli Tyler
Description:
Wicked Pictures is pleased to offer you What?s a Girl Gotta Do? Stormy plays Amy a young successful executive who?s vying for VP at her company. She throws a dinner party to impress her boss and to solidify her promotion. What happens next is pure hilarity! This sexy little comedy really delivers from the script and acting to the hot and steamy sex! Stormy?s acting is some of the best I?ve seen in adult and her supporting cast shines as well! This feature doesn?t disappoint in the sex department either, with a beautiful cast giving great sex scenes! What?s a Girl Gotta Do will please the hardcore fans along with the couples, so stock up on this one!
Categories:
Category List Coming Soon

---

Adult DVD ID:
52893.11 (1-E-112)
Adult DVD SKU ID:
DVDWF405
Adult DVD Run Time:
Approx. 2 hrs

Cheap Adult DVD:

What's A Girl Gotta Do?